---

Main Features
Software-Defined Radio




General receive coverage
0.5 – 56.0 MHz

Adjustable Output Power
1 – 10 W


Digital Hi-Performance Filtering
(4 receive, 2 transmit)

48 kHz Build-in Hi-Speed
Panadapter

I/Q Output
and Firmware Update via USB


CW and Voice
Messages Memory


CW and Voice
Beacon Mode


Antenna
SWR Monitor
The Lab599 Discovery TX-500 covers 160−6 meters amateur radio bands, all modes, with a maximum power output of 10 W. It comes with true desktop-radio features, like auto-notch, noise reduction, and RX/TX EQ. The transceiver has a built-in fast panadapter, for easier search for new contacts and evaluation of band conditions wherever you are, at any time.

Discovery TX-500 —
highly energy­efficient portable transceiver
For a portable transceiver, one of the important characteristics is the power consumption in the receive mode. TX-500 transceiver uses unique circuit solutions to reduce the current consumption from a 13.8 V source to 100 mA, which is a unique offer on the market. The highly efficient transmission path will also allow you to enjoy long battery life on the air.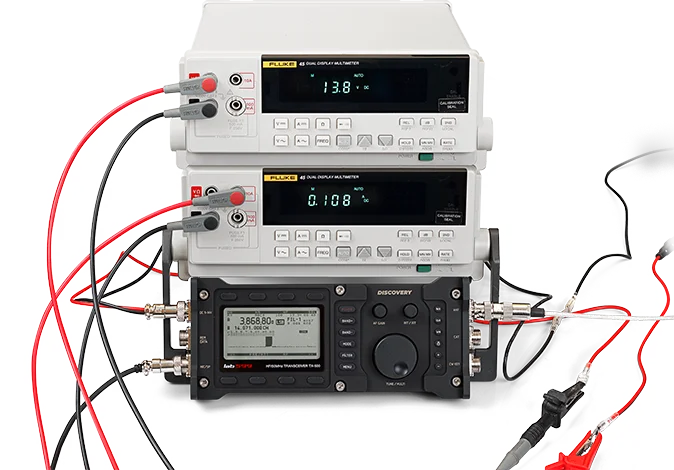 Unique form-factor
The Lab599 Discovery unique form-factor allows you to operate from anywhere. The transceiver is only 30 mm thick, including knobs, weighing only 0.55 kg. Fold out the kickstands at the rear for use on a desktop or picnic table.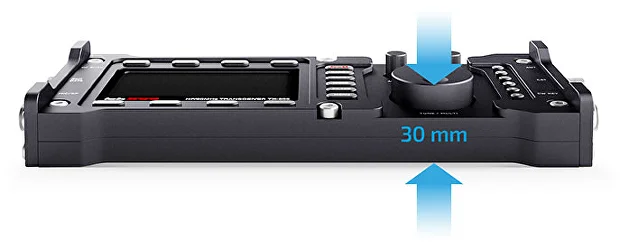 11 discrete RF bandpass filters
Discovery TX-500 has 11 discrete RF bandpass filters. The RF signal is only passed through one of the band-pass filters — any out-of-range signals are rejected.
Built-in panadapter
The transceiver features a built-in high-performance panadapter, for better search for new contacts and evaluation of band conditions — wherever you are, at any time.

Aluminum alloy body
The transceiver's body is made of durable aluminum by the method of precision milling, to ensure a unique shock protection and provide good heat removal from the output part of the transmitter.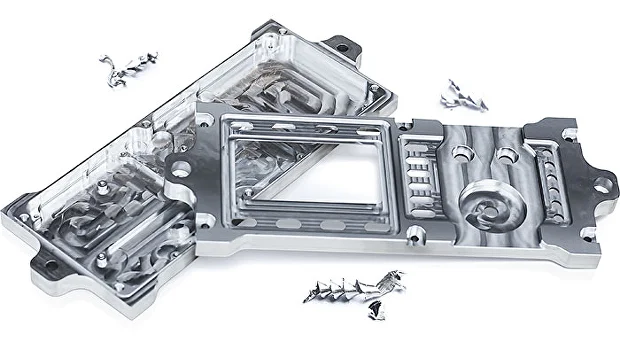 Well shielded inner units
To achieve high sensitivity of the transceiver, separate functional units are isolated from mutual influence and external interference by partitioning walls installed in the device case.

Dust and liquid protection
Due to the liquid-protected housing and the absence of through-holes, spatter resistant plugs, encoders with sealing rings, the transceiver will work reliably in extreme conditions, giving you real pleasure from traveling.

The case is also covered with a layer of black anodizing substance, to maintain an attractive appearance for a long time, even during extreme operation.

The display of the transceiver is protected by 1 mm thick tempered glass resistant to scratches.
Specifications
General features
160-6-meter amateur radio bands
General 'receive' coverage 0.5 - 56.0 MHz
All modes: SSB, CW, DIG, AM, FM
High-performance 32-bit floating-point DSP
Current drain as low as 100 mA in 'receive' mode (backlight on, preamp off, no signal)
External power supply DC 9-15V, 1 to 3A typical in transmit
High-contrast LCD with 256×128px
High-performance real-time panadapter (48 kHz wide)
One-click online firmware upgrades
Appearance and dimensions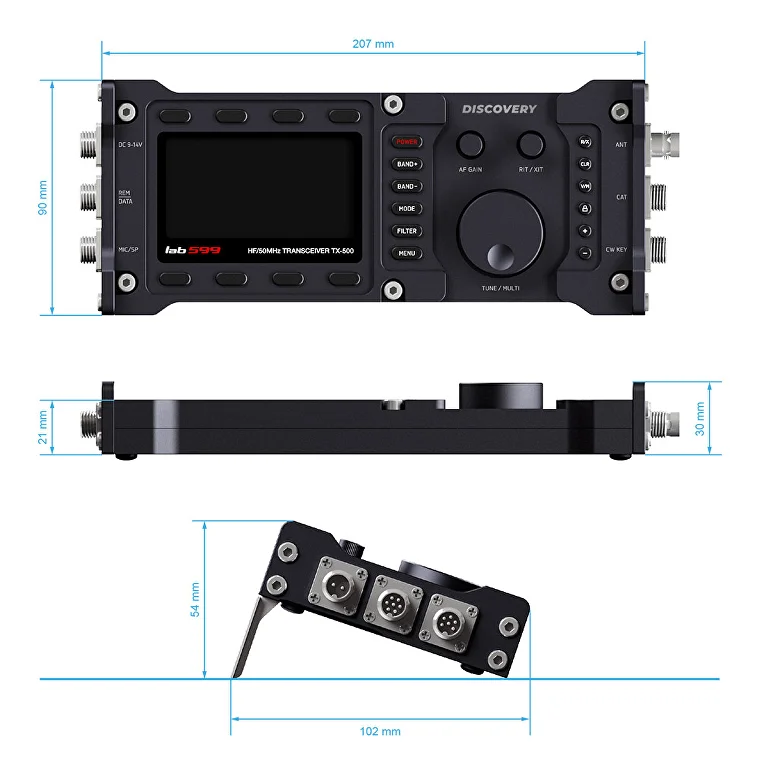 Ultra-compact size (H×W×D): 90 mm (3.5") × 207 mm (8.1") × 21 mm
Rear folding kickstands for viewing angle and transportation
Weight: 0.55 Kg (19,4 oz)
Receiver
Sensitivity: Noise Floor (MDS); 500 Hz DSP filter: –141 dBm (14 MHz, Preamp-on)
Blocking Gain Compression Dynamic Range, 500 Hz
BW: 129 dB (14 MHz, 2 kHz offset, Preamp-off)
Reciprocal Mixing Dynamic Range: 14 MHz, 20/5/2 kHz, offset: 119/108/106 dB
Quadrature down-sampling mixer compatible with PC-based SDR (software defined radio) applications
Receiver I / Q outputs for PC soundcard
Switchable low-noise preamp and attenuator
3-band receive audio equalizer
4 adjustable digital filters
Automatic notch filtering
Adjustable noise reduction and noise blanking
Audio Output ext. speaker, 3W typ.
Transmitter
Adjustable output, 1 to 10W PEP
Rugged, SWR and temperature-protected final amplifier stage
Carrier Suppression > 50dB typ.
Harmonic / Spurious Outputs > 50dB below carrier
CW Sidetone/Transmit offset 400-1200Hz, adjustable
Speaker-microphone with PTT
3-band microphone audio equalizer
2 adjustable digital filters
DSP RF speech processing for excellent 'punch'
Other features
Internal CW keyer with 10-300СPM range
100 general-purpose memories store VFOs, modes, etc.
CW keyer memory with 4 cells for 20 seconds each
Voice message memory with 2 cells for 20 seconds each
Computer control via USB
Full remote-control command set (with Kenwood emulates)
Package includes
Speaker-microphone
CAT cable for on-line software update
Power cable for external power source DC 9 -15 V
(battery not included)
Headset and mic adapter with PTT (3.5mm jack)
CW adapter (3.5mm jack)
Additional connector GX12 type, 7 pins